The University Libraries at the Catholic University of America support and enrich instructional, research, and service programs. The library, as an integral component of the academic process, provides access to our cultural and intellectual heritage through resources and services and cooperates actively with the faculty and students in the teaching, learning, and research process.
The main library on campus is the John K. Mullen of Denver Memorial Library. The library system houses more than 1.3 million books and print volumes, provides access to tens of thousands of electronic journals and books. The University is also a partner in the Washington Research Library Consortium (WRLC), providing the Catholic University community with access to the library resources of the region's major universities.

Librarians help students, faculty and staff with reference questions by phone, in person, by email, and through instant messaging and are available for research consultations and library instruction.

The special collections of the university support advanced research and preserve our rare and unique heritage. Special Collections curates University records, manuscript collections, and audiovisual materials which document the history of Catholics in America and the history of Catholic University. Rare Books Collections contain materials ranging from medieval manuscripts to modern first editions and supports a wide variety of disciplines. The Semitics/Institute of Christian Oriental Research (ICOR) library supports research on the languages of the Bible and the ancient Near East. The heart of the Oliveira Lima Library are the manuscripts, pamphlets, books, and artwork left to the University early in the 20th century by Manoel de Oliveira Lima, a Brazilian diplomat and historian.
John K. Mullen of Denver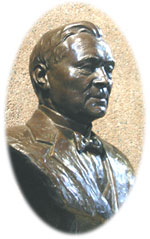 John Kernan Mullen was born in Ballinasloe, County Galway, Ireland, and immigrated with his parents to this country in 1847 when he was 9. At the age of 14, he began working in a flour mill in Oriskany Falls, N.Y. At 20, Mullen went West, leasing a flour mill in Denver, Colo., and soon after buying several more mills. By 1911 he had built the first grain elevator in the state, established the Colorado Milling and Elevator Company, and operated 91 elevators, warehouses and mills in Colorado, Kansas, Utah and Oregon.
Convinced that his wealth was meant to be used to help others, Mullen offered service and financial aid to the Diocese of Denver and numerous other Catholic and secular institutions. In 1924 he pledged $500,000 to The Catholic University of America for the construction of a library, which opened as The John K. Mullen of Denver Memorial Library in September 1928.