University Archivist and Head of Special Collections
Aquinas Hall 101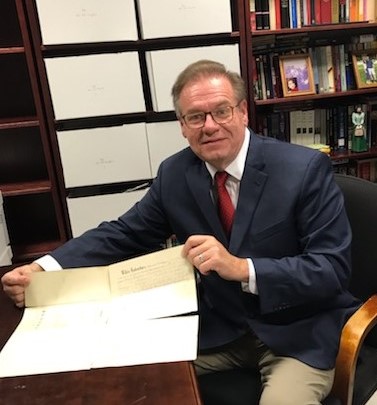 202-319-5065
shepherw@cua.edu
Website
William John Shepherd attended the Indiana University of Pennsylvania (IUP), 
receiving a BA in History with minors in International Studies and German in 
1984, and a MA in History with a concentration in British history in 1986. He 
began his archival career as an intern at the Maryland State Archives in 
Annapolis, MD, 1988-1989, and has been employed in Special Collections at 
CU since 1989, serving as Acting Archivist in 1994-1995, Assistant Archivist 
from 1995 to 2002, Associate Archivist from 2002 to 2018, Acting University 
Archivist from 2018 to 2019, and University Archivist and Head of Special 
Collections since 2019. 
He has created, revised, or directed the majority of the archival finding aids (or 
collection guides) at Catholic University, and is also the creator, editor, and a 
writer of the blog The Archivist's Nook.
Mr. Shepherd served on the editorial board of the journal Pennsylvania History, 2016-2021, and was a panel grant reviewer for The National Endowment for the Humanities (NEH), 2004-2007. He was a contributor to 
An Historical List of Public Officials of Maryland, 1634-1990
. (1990), 
The New Catholic Encyclopedia
 (2003), 
Paul Hanly Furfey's Quest for a Good Society
 (2005),
The Columbia Guide to Irish-American History
 (2005), and
1100 Titles: An Annotated Bibliography of Works about Churchill (2021)
.
He has authored several articles in American Catholic Studies, Military History, The Newsletter of the Scotch Irish Society of the United States of America, Pennsylvania History, Potomac Catholic Heritage, The Highlander: Magazine of Scottish Heritage, U.S. Catholic Historian, and Washington History.
He has also written over scores of book reviews on the Hillsdale College Churchill Project web site; in the academic journals American Catholic Studies, Catholic Historical Review, Catholic Library World, Pennsylvania History, The Historian, The Journal of British Studies, The Swiss-American Historical Review, and Washington History; association publications such as the Churchill Center's Finest Hour and the Proceedings of the U.S. Naval Institute; magazines America's Civil War, Blue and the Gray, Civil War Navy, Civil War Times, Military History, and World War II; and the Civil War Courier newspaper.
Mr. Shepherd also appears as a fictional version of himself by name as an archivist who assists Sherlock Holmes and Dr. Watson in the Sherlock Holmes pastiche novella,
The Adventure of the Assassino Pazzo
(2021) by Craig Thomas Copland.