The Semitics/ICOR Library was established to support the teaching and research activities of the Department of Semitic & Egyptian Languages & Literatures and its Institute of Christian Oriental Research (ICOR). The library holdings reflect the twofold interests of the department: the languages and thought of the Bible and the Ancient Near East; and the languages, literatures, and history of the Christian Near East.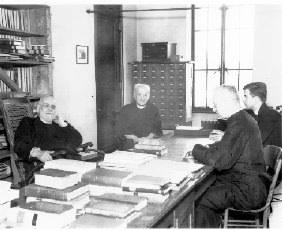 Henri Hyvernat (1858-1941), Arthur A.Vaschalde, C.S.B. (1871-1942), Patrick W. Skehan (1909-1980); Edward P. Arbez, S.S. (1881-1967) at the Semitics Department, 108 Mullen Library, May 27, 1939.
Semitics/ICOR collections complement the holdings of Catholic University's Religious Studies and Humanities Services. Relevant subject areas include: Semitic and Egyptian languages and literatures; Hebrew Bible and Old Testament philology; papyrology; Christian Oriental Studies (Arabic/Classical Armenian/Coptic/Geez Ethiopic/Old Georgian/Old Nubian/Syriac); Islamic studies in general, with good coverage of early Islamic theology and philosophy, and of Muslim-Christian relations in their historical and modern contexts. The Semitics/ICOR Library receives some 230 print and online periodicals. At this time only a small portion of the library holdings appear in the University Library Catalog: Researchers may find cataloged books in the WRLC Catalog of the Washington Research Libraries Consortium. Many Semitics/ICOR materials remain uncataloged, and readers should consult the staff for assistance.
Location and Hours
The Catholic University of America is located at 620 Michigan Avenue N.E., Washington, D.C. 20064. The Semitics/ICOR Library is located on the garden level (Rooms 032-038) of the John K. Mullen of Denver Memorial Library on the university's campus. Room 035 is the entrance. The Semitics/ICOR Library houses the Department of Semitic & Egyptian Languages & Literatures and its Institute of Christian Oriental Research (ICOR). Department classes, workshops and conferences are scheduled in the library rooms. The rooms also contain offices and work areas.
The Semitics/ICOR library is open by appointment Monday-Friday between 9:00am-5:00pm, except for university holy days/holidays. Weekend or evening hours may be scheduled with the curator.
Staff
Monica J. Blanchard
Curator, Semitics/ICOR Collections
tel. 202-319-4532
Blanchard@cua.edu
"Kitab Kalila wa-Dimna" in Turkish. Miniature from Catholic University Hyvernat Turkish MS 3. 18th/19th cent.