The Archives provides services to all departments and offices of the University by helping them efficiently manage their university records. We help departments and offices ensure that their records are retrievable, reliable, and secure. Please note that once university records are transferred to the custody of the Archives the Archives assumes ownership of them as steward of the university's history. The office of creation retains rights of controlling access and borrowing back for office use, but such university offices may NOT destroy any records that are already in the custody of the Archives.
The University's Records Management Program ensures that: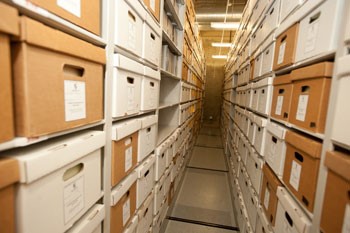 Records with historical and permanent value are transferred to the Archives

Records with short term value are retained no longer than their specific retention period
Records with no long term value are properly disposed
Records Policies and Guidelines
Records Training and Advice
*To view this content, you must install Adobe Acrobat Reader
Please contact the archives at lib-archives@cua.edu with any questions regarding university records. See also our blog, The Archivist's Nook.