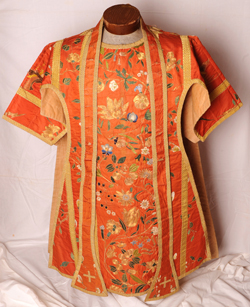 Special Collections oversees the university museum collection. The first donations of museum items date to before the school opened in 1889. Up until 1905 the collection was displayed in Caldwell Hall. Starting in 1905 and continuing until 1976 parts of the collection were either displayed in McMahon Hall or Mullen Library, or were put into storage. In 1976 the university museum collection was put under the management of the Archives and the collection was housed in Curley Hall vault, with items being used in campus exhibition or loaned to campus offices to be displayed and enjoyed as office decoration.
The university museum collection is comprised of several distinct collections, the Anthropology Collection, the Magner Collection, the New Museum Collection, and the Coin Collection.
Please contact the archives at lib-archives@cua.edu with any questions regarding the museum collection.