The University Archives is the official memory of the university and it acquires and administers non-current university records. University records are organized by office, department, or program and document the history and activities of the institution. Materials often include minutes, reports, correspondence, photographs, and audiovisual materials. Please note that once university records are transferred to the custody of the Archives the Archives assumes ownership of them as steward of the university's history. The office of creation retains rights of controlling access and borrowing back for office use, but such university offices may NOT destroy any records that are already in the custody of the Archives.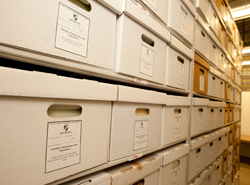 Legal case files, office personnel, and student records are closed to researchers.
Records of University offices are open to staff of the creating office, designated staff, and the president's office.
Records created by University offices 50 years ago or earlier (records would be older than 50 years) are open to researchers at the discretion of the Acting University Archivist.
Records created by University offices in the last 50 years (records would be less that 50 years old) will be available to researchers only when they obtain permission of the current administrator of the creating office. Researchers may seek permission by writing to the Acting University Archivist who will forward the request to the appropriate office.
Published materials of the university are open to researchers. These publications include but are not limited to:


Announcements/Course Catalogs, 1889 to the Present
Annual Report of the Rector, 1889-1967

List of the University Record Collections in the Archives
Please contact the archives at lib-archives@cua.edu with any questions regarding our new university record collections.