Special Collections collects manuscript material documenting the history of the American Catholic people. This includes but is not limited to individuals and organizations related to the history of Catholic social action, philanthropy, social thought, labor, immigration, international peace, and the poor as well as Catholic intellectual, educational, cultural, religious, and spiritual lives.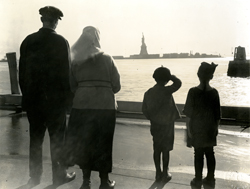 Manuscripts consist of all materials that are not otherwise classified as official University records, and include many types of unpublished primary sources such as literary manuscripts, letters, diaries, scrapbooks, business and organization records, photographs, maps, oral histories, sound recordings, film, and video.
Collections range in size and scope from smaller collections of personal papers (less than 1 linear foot) to massive collections of records belonging to major national Catholic organizations such as the National Catholic Education Association (nearly 700 linear feet). The Finding Aids are guides and inventories for processed manuscript collections. The Index of Manuscript Collections lists every manuscript collection, both processed and unprocessed, alphabetically by title.