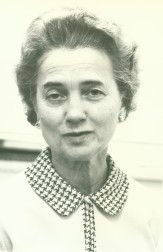 The Dorothy Mohler Research Grants help defray research and travel costs for those using the collections in Special Collections at The Catholic University of America. Special Collections is one of the premier research facilities for the study of American Catholicism. Its 9,000 linear feet holdings include manuscript materials, ephemera, photographs, audio, and moving images. The collection is especially rich in American Catholic social welfare organizations and American Catholic social theory.
It also includes substantial and important holdings documenting American labor history and The Catholic University of America. Information about the holdings of Special Collections can be found on our website.
Eligibility
University faculty, graduate students, post-doctoral students, independent scholars, and documentarians who are involved in a research project that requires substantial use of the collections at Special Collections are eligible to apply. Doctoral students are strongly encouraged to apply. Recipients of the grants are expected to acknowledge the grant in all publications which result from the grant and provide Special Collections with a copy of any publication that results, in part or in whole, from the grant.
Criteria
The staff at Special Collections in the University Libraries and professors in the History Department at The Catholic University of America will evaluate the applications. The applications will be judged based on the demonstrated applicability of the collections at the Archives to the applicants research project, the contribution that the project will make to the historical literature, and the originality of the research.
Award
Special Collections will award up to three Dorothy Mohler Grants per year. At least one of the grants each year is reserved for a doctoral student. The grants will be up to $500.
Application Guidelines
Those applying for a Dorothy Mohler Grant must provide:
A description of the project that includes a brief explanation of the project, the goals of the research (i.e., article, book, dissertation, documentary, preferably with title) and which collections you plan on using at Special Collections. The description should not exceed 1,000 words.
A current CV.
Proposed budget estimating travel, lodging, and other anticipated expenses.
Graduate students should have their advisors send a letter of recommendation. (It is the applicants responsibility to insure that the letter of recommendation is sent in time.)
Applications for the 2024 award cycle are due by October 30, 2023. Grant winners will be notified by December 30, 2023.

Completed applications should be sent to:
Special Collections
101 Aquinas Hall
The Catholic University of America
Washington, DC 20064

or email mazzenga@cua.edu
Funding for the Dorothy Mohler Research Grants was provided by Dorothy Mohler.

Questions regarding the Dorothy Mohler Grants should be directed to Dr. Maria Mazzenga (mazzenga@cua.edu) or call (202) 319-5065.